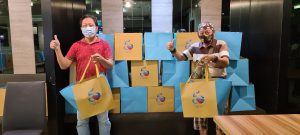 Mid-Autumn Festival, one of the most important festivals on the lunar calendar, falls on the 15th day of the eighth lunar month. Chinese believe that the golden moon, at its roundest and most spectacular, symbolises the reunion of families, hence drawing together families and communities in a heartwarming reunion.
The line from a Song Dynasty poem, "May we live long and behold the beauty of the moon, despite thousands of miles apart" (但愿人长久,千里共婵娟) perhaps best captures the spirit of Mid-Autumn Festival. "Presenting mooncakes to friends and families symbolises blessings in the form of longevity and joy," said Kathryn Ang, organiser of Seacare's mooncake distribution activity for both Seacare Cooperative members and senior residents of Jalan Kukoh. Mooncakes distribution to the community, organised in collaboration with the Jalan Kukoh Residents' Committee (JKRC), took place on 15 and 16 September with stringent safe distancing measures.
Volunteers at JKRC helped distribute 300 boxes of mooncakes to the elderly residents, who arrived in smiling faces. The residents showed their appreciation for the mooncakes with poses and approving nods. "Glad that Seacare Co-operative has again sponsored lovely mooncakes to our low-income seniors in the current pandemic. It brings joy to our seniors during the traditional festival. Applauding the good heart of Seacare's management in bringing so much joy to our seniors," said JKRC Treasurer Kang Han Poh.
"Seacare upholds the belief for joyous family reunions, and we made it possible by gifting our recipients a big set of mooncakes to celebrate with their families. With or without Covid-19, we keep our spirits high by showing our care for members and the community," Kathryn added.
And yes, the distribution of mooncakes was not just confined to residents of Jalan Kukoh.
This year, The Seacare Hotel mooncakes were also given to Seacare members in a week-long distribution beginning early September. The members came at allocated times in adherence to safe distancing measures. They also collected the mooncakes in an orderly manner at a designated collection point managed by staff.
"It's a very nice gesture by Seacare to think of members like us and share the festive joy together, even as my family and I celebrate Mid-autumn festival as Eurasians," says member Maximillian Theodore.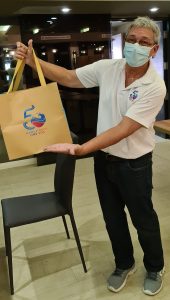 Click here for more feature stories in Samudra.