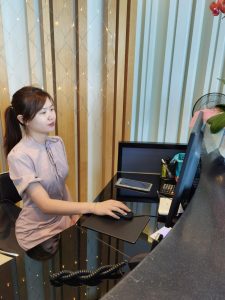 Compassion and empathy for others from the bottom of my heart: Yvette Yong
Seacare Hotel Guest Service Executive Yvette Yong is one of the winners of the Singapore Tourism Awards 2021. This year's award recognises and celebrates the extraordinary resilience and dedication" shown by professionals in the tourism industry during the pandemic.
Yvette, a recipient of the Customer Service Excellence for Hotels award, won the award for serving pandemic-related hotel guests. She said Covid-19 has changed her role as a guest service executive and altered how she interacts with guests.
"As a guest service executive, I am trained to provide a home-away-from-home experience to my guests," said Ms Yong in an interview with Today. Yvette enjoys making her guests feel at home at the hotel by periodically calling to check in on them. In this issue, she shares some of her most memorable experiences at work.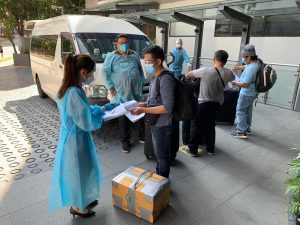 What do you enjoy most at work?  
 As frontline staff, I enjoy meeting and interacting with people from different parts of the world. It is interesting to learn and understand their cultures. I do my best to create a "Home Away from Home" experience for guests at The Seacare Hotel, so they will return when they revisit Singapore or recommend our hotel to their friends. 
Any memorable experience serving guests?
Before The Seacare Hotel embarked on the crew change project, we served Malaysian workers who could not return due to the lockdown in Malaysia. In the middle of the night, a lady guest called the front desk and cried as she missed her family. As a Malaysian, I also missed home and used to go back every two months before the pandemic. I can empathise with her. I understand how homesick, sad and depressed she must have felt, unable to see her family. I often worry about my family as I couldn't be by their side to care for them. Thoughts like How are they living? Do they have sufficient food? often occupy my mind. I sought my manager's permission, went up with a hot drink for the guest, and consoled her. We chatted outside her room; I told her not to worry and that things would turn out well. She felt comforted that I understand what she was going through.
How about during the pandemic?
When our hotel was converted into a designated holding facility, we began attending to seafarers doing crew changes in Singapore. They have to be isolated as part of the crew change protocol. One day, a crew called the reception, informing me he had to be quarantined as his Covid pre-departure test result came back positive. He cried over the phone, saying he was looking forward to reuniting with his family in back Indonesia until the news came. He was worried about how his family would cope if he succumbs to the virus. I told him I understand his situation as I am also away from my loved ones. I calmed him down, encouraged him to stay positive and assured him he would receive quality examinations and treatment in Singapore. I told him he would be fine and see his family soon. He felt better after our conversation and thanked me for sharing his woes.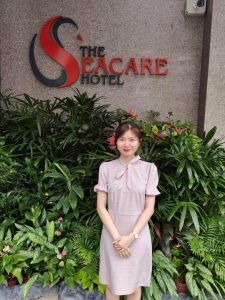 How do you stay motivated?
Since the pandemic broke, I have been cautious about the risk of infection as frontline staff. Thankfully, our management implements strict SOPs and practices, such as wearing full PPEs, N95 masks and face shields at all times. I feel safe as long as I adhere to the requirements. It's motivating to see everyone at The Seacare Hotel putting their hearts and souls to add value and contribute to the hospitality and maritime industries. I have been here for three years; I cherish our great culture and the warmth shared by colleagues, whom I now call friends. All these keep me going and staying positive every day.
What is your life's philosophy?
Have compassion and empathy for others from the bottom of my heart. Staying positive and sincere will always help me find a way out of the most challenging situations.
We congratulate Yvette Yong for winning the Singapore Tourism Awards 2021! Samudra also got Yvette's colleagues, Tong En and Nami, to share their guest service experience at The Seacare Hotel.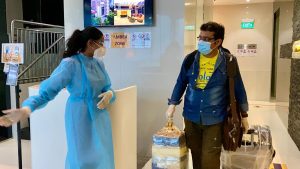 What are some interesting encounters in your daily operation?
Tong En: Many years ago, a seafarer checked in at 2 am. He was feeling hungry and wanted to order a McDonald's meal. But food delivery was unavailable back then. Knowing how uncomfortable it is to go to bed hungry, I got the duty manager's permission and walked to the nearest 24-hour McDonald's outlet in Chinatown to get him a meal. The guest was so touched that he tipped me when he checked out. I did not accept the tips as I felt my responsibility was to provide an excellent guest experience.
Nami: I attended to an unhappy guest who had to settle the bill, as he could not bill it directly to his company. I patiently explained and showed him the supporting documents from his company. In a fit of anger, he shouted at me and threw his credit card at the reception. Understanding his frustration, I sincerely apologised for the inconvenience and quickly processed his payment so he could catch his flight.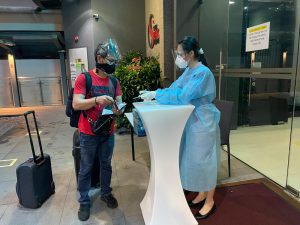 How different is your job during Covid-19?
Tong En: Before the pandemic, we could interact with guests face-to-face to better demonstrate our hospitality and professionalism. The pandemic limits such interactions as the crew must remain in their rooms at all times after checking in. We could only assist in their enquiries through phone, thus lacking the essential human touch.
What's your takeaway from the pandemic?
Nami: I learnt to be more compassionate and empathic. There is always a turning point in any adverse situation. We are glad to be gainfully employed and serve our guests with added pride during the pandemic.
Click here for more feature stories in Samudra.