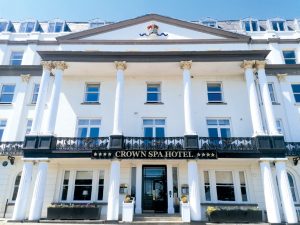 The UK hospitality scene took a hit from the pandemic in 2019, pushing hotels into the reds and placing staff on government furlough. The situation was exacerbated by frequent changes to Covid-19 measures in different counties.
However, the re-lifting of borders for domestic tourism in the UK has spurred summer staycation bookings this year, driving hotel demands and room rates to pre-covid levels and well into Q3 and Q4. In an interview with Sean Brady, UK vice president of Compass Hospitality, which manages The Crown Spa Hotel, Scarborough and the Queens Hotel, Dundee, Samudra learns the outlook of these star-performing properties owned by Seacare.

What are possible post-pandemic challenges ?
In an anticipated return to normalcy, it has been a challenge to manage guest expectations as certain restrictions were positively received but affected guest experiences. Nevertheless, our hotel managers are hands-on and proactively keeping guests engaged and improving their staycation experience."
Why do guests keep returning ?
The Crown Spa's location and destination appeal to domestic tourists. It also enjoyed attractive media coverage being the only 4-star hotel offering prominent location and services. Market demand, therefore, increased the rate. With pre-covid experiences returning, guests are happy to pay for the premium service the hotel delivers.
Who are your typical customers ?
Our typical customers at the Crown Spa Hotel are high-spending retired couples, with disposable income looking for quality and service. We do also have in our business mix international and domestic media clients who like to regularly film programmes in the area, as well as some major corporate accounts including government contracts.
What are the challenges you faced during the pandemic, and how di you overcome them following restrictions ?
I found it difficult to close the hotel and not have a work routine to focus on daily. To overcome this, I kept in constant touch with my guests, including brides and grooms who had weddings booked and all. I took great pleasure in updating our Facebook page with our 'Meet the Team' campaign, which received great feedback. It emphasised the importance of good communication with our guests, especially during a time when we couldn't welcome them to our hotel in person." Upon re-opening, we initially found it extremely difficult due to the shortage of deliveries for goods such as laundry and certain food items. However, as a team, we pulled together and overcame any problems, and gradually these issues appear to have been resolved.
Are there more corporate or leisure guests ?
Typically, we host many corporate guests around mid-week who are travelling for work and then have a strong leisure guest base for the weekends as Dundee is becoming more of a staycation destination thanks to City investment in attractions such as the V&A Museum. We have noticed a change in corporate travel where our corporate guests now stay with us on a Sunday night and tend to be long-stay guests for around five nights.
Click here for more feature stories in Samudra.