Samudra spoke to Capt Lim Swee Aun, newly appointed Director of Seacare Thrift Pte Ltd, and Mr Tommy Lim, newly appointed Director of Seacare i-Connecz Pte Ltd to learn what they hold dear in both business and life. Capt Lim is the Chairman of the Singapore Maritime Employers Federation and General Manager of Wallenius Marine Singapore Pte Ltd. Mr Tommy Lim is Executive Director of Henderson Assets Management Pte Ltd.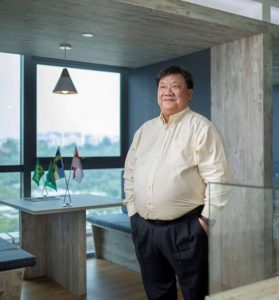 What's your life and business philosophy?
Capt Lim: Always be truthful and honest in business as life is a simple process; thus no need to complicate the matter for yourself and those around you.
What principles do you live by?
Life is simple, just be responsible and happy. God has a plan for all of us, just take it with grace.
What are values that serve you well over the years? 
Always help people in need and don't look down on them. You will never know when you need their help. What goes around comes around.
What makes a business sustainable?
Always be alert, be prepared, understand the need to make changes to make us easily adapt to new situations, new environments. Preparedness to change and adapt will mitigate the negative impact and help maintain company sustainability.
What traits do you value most in employees? 
Honesty and willingness to admit a mistake. A person who does not admit mistake will not improve. The ability and willingness to admit one's mistakes is a very positive and strong character trait.
What do you wish someone had told you in the beginning of your career? 
Learn as much as possible and do not limit to progress only pertaining to your job scope. One will require other knowledge, skill set or experience moving up the hierarchy at a later stage in life. Learning is life-long journey as it will help improve multiple aspects of your life, career.
With rapidly changes and disruptions in the maritime industry, what's your advice for seafarers to stay employable? 
Marine industry is an international business. Comparing seafarers' salary, Singaporean are paid higher therefore in order to ensure employability, Singaporean seafarers must be equipped with better experience and job skill. Employability too has overcome its boundaries that were earlier defined just by skills. Now, it includes a bigger vertical, which consists of behaviour, attitude, aptitude and soft skill.
Why are you optimistic about the future of the maritime industry?
Maritime shipping is the backbone of world trade. Seventy per cent of world trade logistics is transported by ship, Maritime industry is here to stay. No doubt the shipping trade frequently fluctuate with ups and downs but, in the end, it is still the cheapest logistic transportation internationally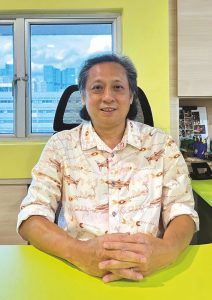 What's your life and business philosophy?
Tommy Lim: My business philosophy is to respect your staff and clients by giving them due attention rather than paying lip service. In practising this consistently, you are building and moving towards trusted relationships in today's business and people model of complexity. My life philosophy is to overcome near and far challenges with much learning and re-learning of what life throws at you. There is a saying: 'that sweet ain't sweet without bitterness'.
What principles do you live by? 
Some of my guiding principles include Honesty, Integrity, Teamwork and above all, Love.
What are values you hold onto dearly ?
Values in life also translate to values towards business in which the values intermingle and join in this matrix system. The trust that was built and is to come propels much gratitude. Another practising value is 'walking the talk' and adopting an 'open door' communication which successful leaders have testified in management styles.
What ensures business sustainability?  
Staff retention, clients excellence and adaptability to industry changes, with an aim to be an early adopter.
How should companies stay ahead amid rapid disruptions? 
For start-ups, one has to be willing to accept changes and stay humble, nimble and adaptable; never lose your cool. For companies that did well, my advice is to watch your ego. Inflation of ego is constant, silent and deadly. A lot of companies suffered losses by letting ego come first over their best interests.
What gives you joy and optimism? 
To be with my loved ones, to know that God is with me.
Click here for more feature stories in Samudra.