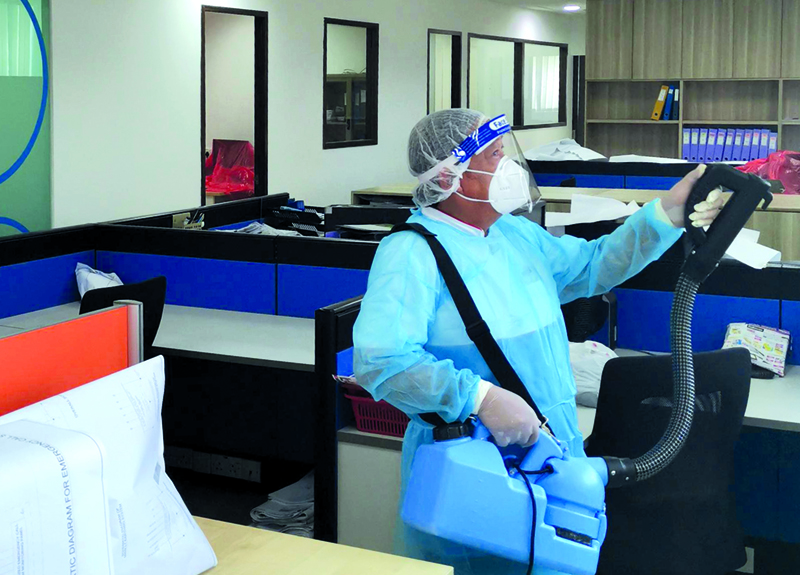 Seacare Environmental Pte Ltd has expanded its cleaning services to include disinfection services for commercial properties, tapping into rising demands for enhanced sanitation amid the pandemic.
The firm's deep-cleaning services now include indoor cold fogging and sterilisation of office equipment for general and Covid-19 disinfection. It uses E-Safe (B005) solution, which does not contain toxic or alcohol and effectively kills 99.99 per cent of bacteria, including Covid-19. The solution is also gentle on the skin, odourless and biodegradable.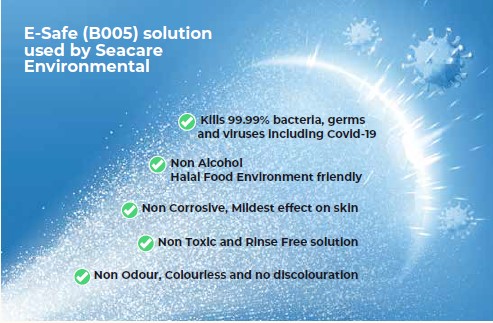 It's a timely opportunity to expand our services to include disinfection to tap into the demand and value-add to existing clients," said Senior Operations Manager Jimmy Tay.
"We also work closely with NEA to establish detailed SOPs, including disinfectant preparations and methodology, PPE procedures, and biohazard waste disposal. Our operations adhere strictly to NEA's guidelines," he added.
Seacare Environmental's disinfection workers are trained and certified competent in Environmental Infection Control & Management by authorised polytechnics – Singapore Polytechnic, Ngee Ann Polytechnic and Republic Polytechnic.
The firm is listed as an approved vendor on NEA's website since January 2022.
For enquiries or more information on Seacare Environmental's services, contact: Mr Jimmy Tay, Tel: 6379 5610 Email: admin_env@seacare.com.sg
Click here for more feature stories in Samudra.