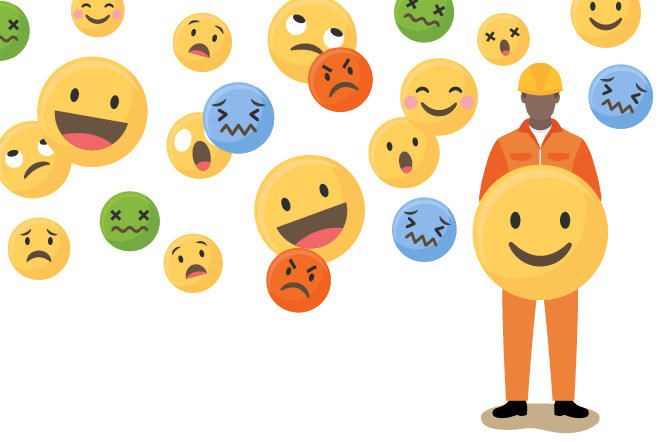 The latest Seafarers Happiness report showed an overall score of 6.59, up from 5.99 in the previous report.
There was an improvement in seafarer happiness, though the most fundamental issue persists: crew change and the inability to access shore leave, a major sticking point for seafarers.
The report said the maritime industry is at a tipping point that could spiral out of control if remedial actions are not taken, noting that without leave and certainty about crew changes, many seafarers are reluctant to come back to sea, which in turn leads to more difficulties with crew changes.
Not coming back
The findings revealed that many seafarers, particularly those aged 35 and over, did not intend to return to sea once they eventually got home.
"The challenges of balancing home life with the uncertainties that the crew change crisis have led to many who were tentatively considering a move ashore accelerating their career change plans."
Some seafarers felt compelled to get maritime work ashore or move into different industries due to the changing landscape of technology and wanted to "get ahead of the curve when autonomous ships arrive."

A profession that is becoming more difficult, less enjoyable, less rewarding, and one which is talking about the death knell of unmanned ships, should not be surprised that it will become ever more difficult to attract and retain people, the report noted.
"Fun and happiness are taken out of sailing by most ship owners and managers for commercial gains" said a respondent.
Seafarers not welcomed
The report also noted that seafarers were painted as pariahs when visiting nations, despite the essential goods they helped deliver. "To read of seafarers stating that they feel unwelcome, that they are seen as 'bringers of disease' is as depressing as it is wrong." "Treated like outcasts by various port authorities at every port," ran one response.
Assisting seafarers Between April 2020 and March 2021, SOS has assisted some 190 grievance cases filed by seafarers involving crew changes, repatriation and owed wages. The figure is a stark contrast to pre-pandemic days.
SOS IR officers said that while they received fewer complaints on the working conditions on board vessels, they were highlighted to seafarers' growing concerns on crew changes, ship abandonment and vaccination amid the pandemic.
Seafarers are key workers who continue to move cargoes ranging from everyday essentials to medical supplies through unprecedented challenges – an infectious and deadly virus, border closures, port congestions and climate change.
World leaders need to recognise seafarers as key workers, allow for equitable access to vaccines, and restore their freedom of movement and access to healthcare. We look forward to a report on an improvement in seafarers' happiness!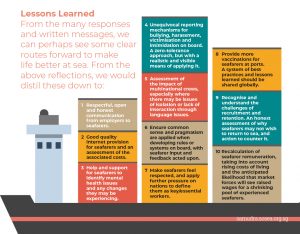 Click here for more feature stories in Samudra.