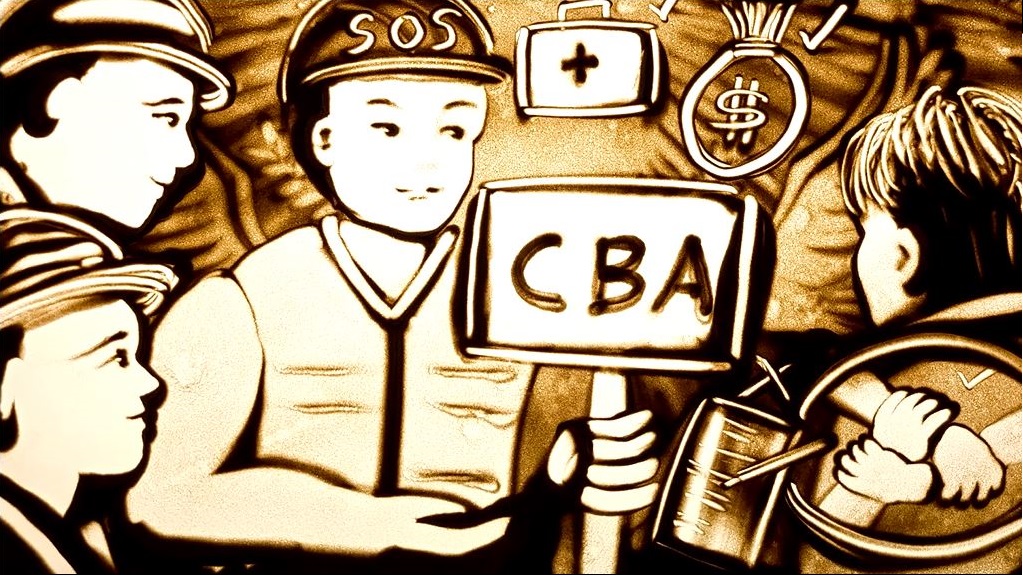 SOS celebrated its 50th year of founding on Oct 30 in a virtual event joined by seafarers, union leaders and global affiliates from across the seven seas.
The golden jubilee was graced by Guest of Honour Grace Fu, Minister for Sustainability and the Environment, and Special Guest Stephen Cotton, general secretary of ITF.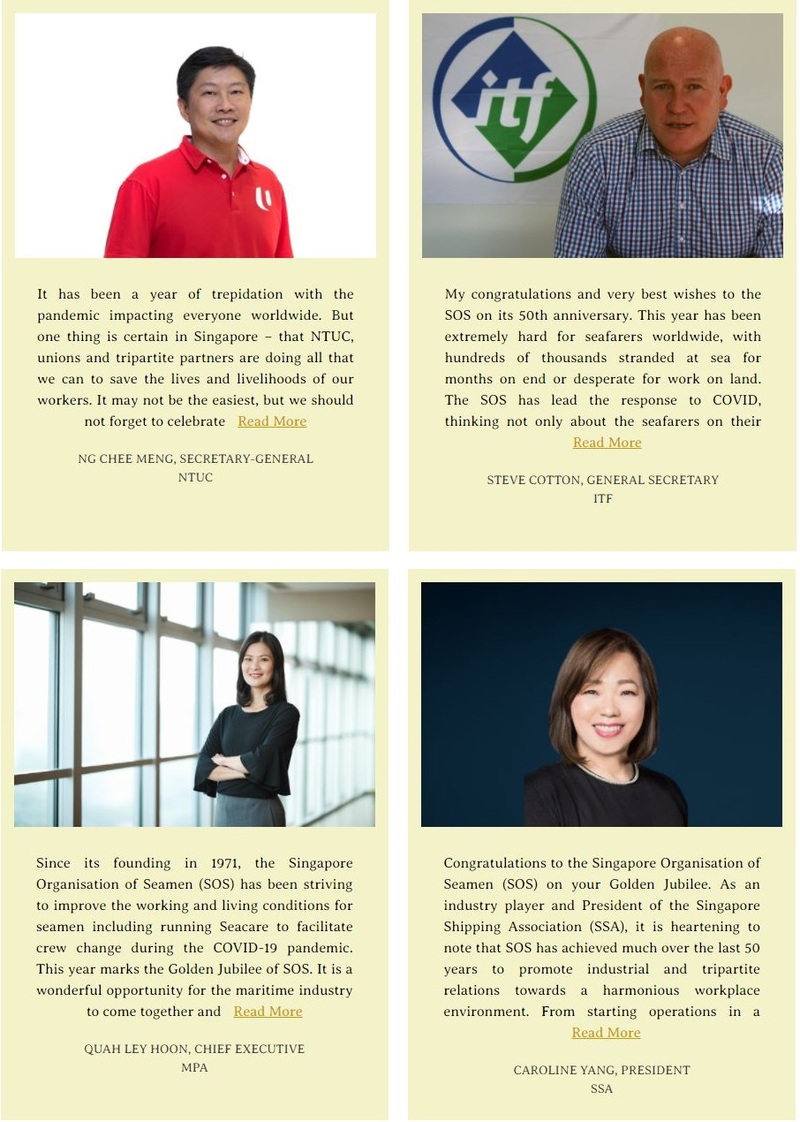 Well wishes from distinguished guests. Click here to find out more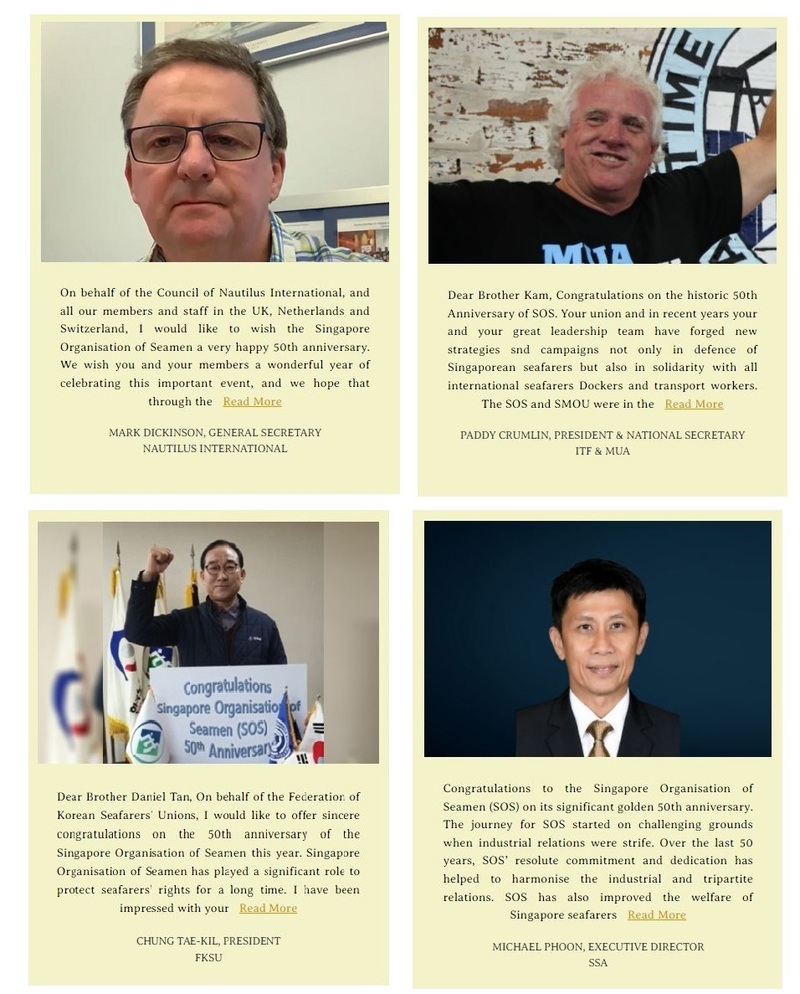 Well wishes from distinguished guests. Click here to find out more
The hour-long birthday bash highlighted SOS's maritime labour movement marked by decades of challenges, uncertainties and adaptation as it thrives to better the lives of seafarers.
In his opening speech, SOS President Kam Soon Huat thanked members who tirelessly contributed to SOS's successes and transformation. Mr Kam also paid tribute to seafarers who continue to keep the global trade and supply chain moving despite the pandemic.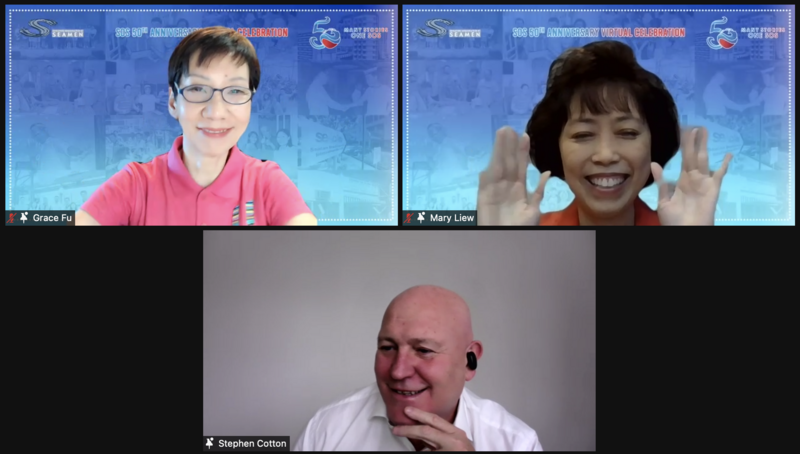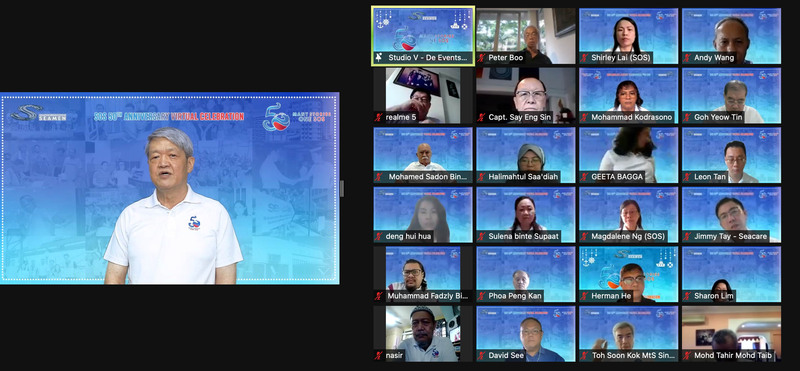 "As we speak, some 200,000 seafarers are helplessly stuck at sea, unable to return to their families. We are mindful of their plights and the tremendous stress they are undergoing. Our hearts are with them, even as we hold this celebration," he said.
Themed Many stories One SOS, the celebration showcased members' seafaring adventures and the road bumps they encountered in the union's formative years – and how these collective experiences contributed to the SOS story.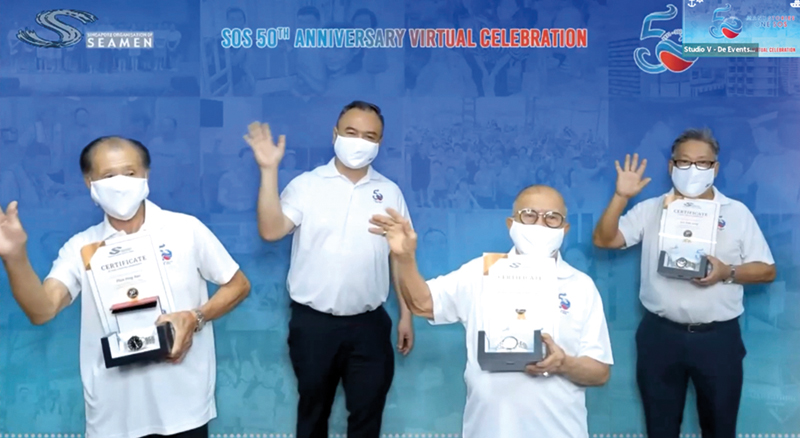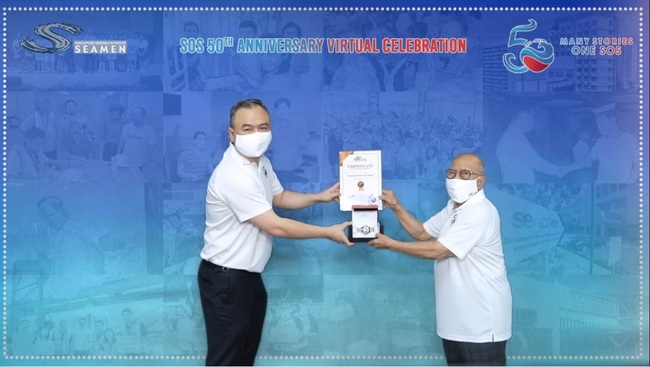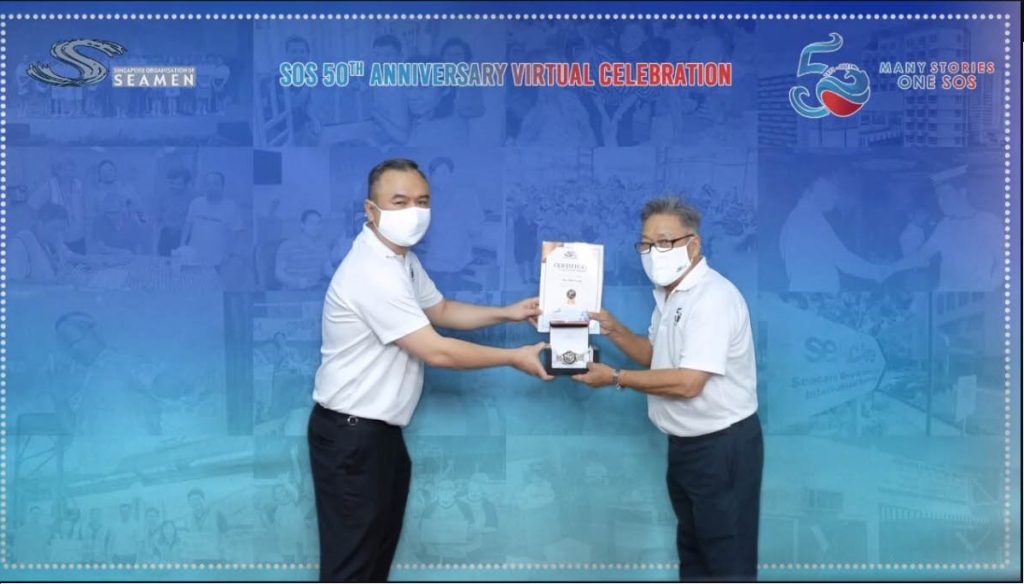 "SOS has played an important role in safeguarding the welfare of our seafarers and improving their working and living condition," Sister Fu in her speech as she thanked seafarers for contributing to the development of Maritime Singapore.
"What makes SOS stands out is your strong international network of services to support members of diverse nationalities. Through your commercial arm Seacare, you have forged partnerships with countries to set up medical centres, maritime training institutes and welfare facilities. Such initiatives demonstrate your dedication to improving the lives of Singaporean seafarers and those from across the world. Thank you for flying the Singapore flag high on the world stage," she said.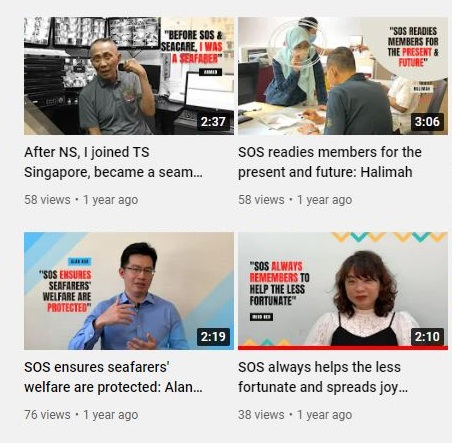 SOS and Seacare Staff sharing stories, click here to view more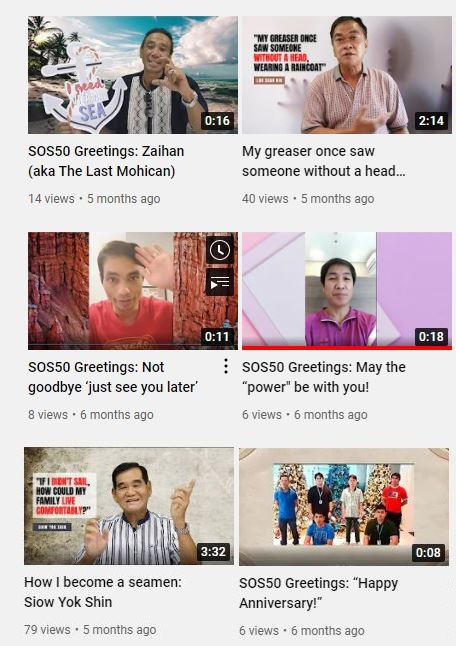 Seafarers greetings and sharing tales, Click here for more videoclips
In his speech, Brother Cotton praised SOS for the strong leadership and 'world-leading' initiatives in developing membership services and schemes that benefitted seafarers of different nationalities.
Brother Cotton also joined NTUC President Sister Mary Liew and other distinguished guests in congratulating SOS and wishing the union success in its continuous journey to better the lives of seafarers.
Study grant to support and encourage member's children to chase their dream for their hard work.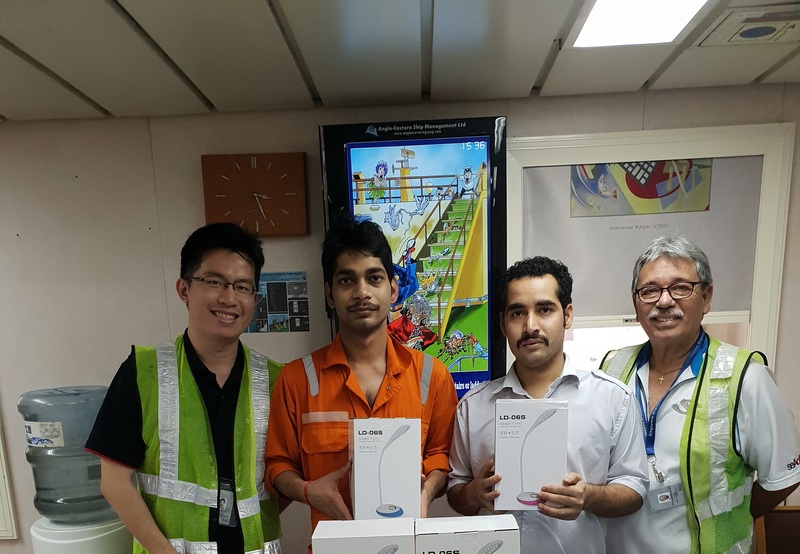 SOS showing appreciation to seafarers during on board visit with portable chargeable LED lamps 
Participants enjoyed a Sand Art performance depicting SOS's progress and transformation since 1971 and how it helped seafarers stay relevant and employed despite difficult times.
Cheering with their families at home, participants raise their glasses to toast in a virtual cake cutting. Everyone clapped in admiration when members and ex-seafarers received their 50-year Long Membership Awards, presented by General Secretary Daniel Tan.
The event concluded with a sweet and memorable group photo capturing the smiles of well-wishing participants and guests.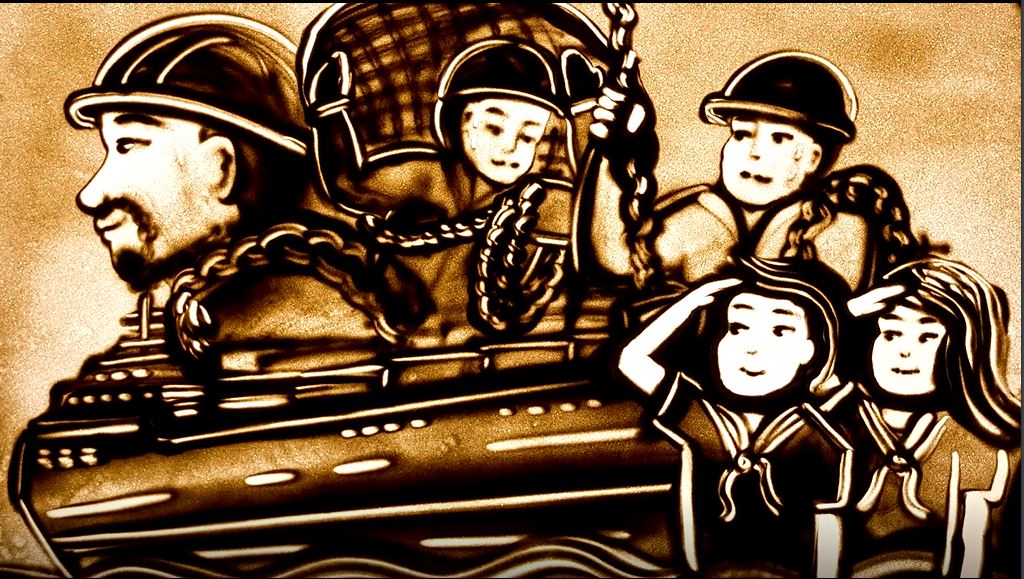 Click here for more feature stories in Samudra.