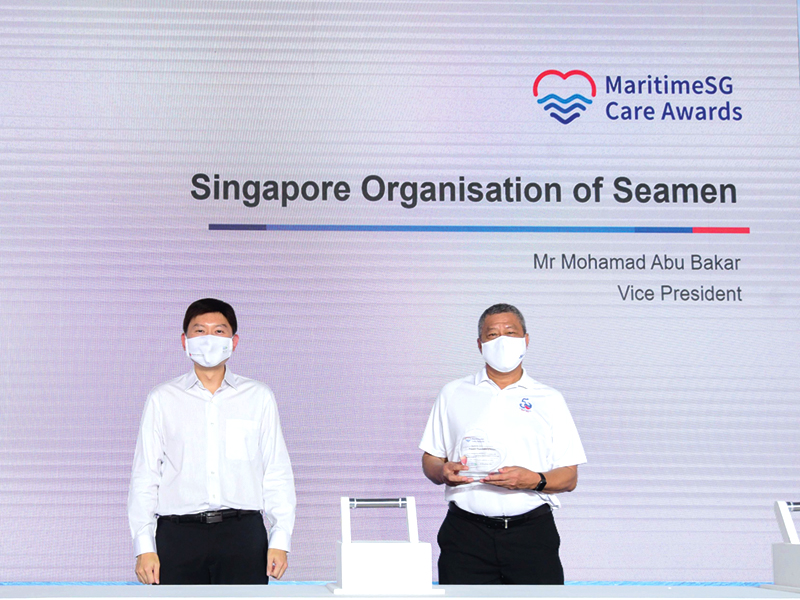 The good work of the 50 maritime personnel was affirmed under a new MaritimeSG Care Awards set up by MPA, SOS and industry partners.
The award recognised maritime workers who rose to the challenges and supported their peers and customers, assisting Maritime Singapore to facilitate world trade and supply chains despite the pandemic.
Senior Minister of State for Transport, Chee Hong Tat presented the awards to 10 recipients at a ceremony at Tuas Port on Nov 30. Mr Chee also presented the Maritime SG Care Partner Award to partner organisation SOS, received by Vice President Mohamad Abu Bakar.
"SOS is honoured to receive the award. We congratulate our fellow award recipients and thank all maritime personnel for keeping our industry moving during the pandemic. SOS will continue to collaborate actively with our industry partners and affiliates to help one another tide through the tough times," said Mohamad.
The award presentation was held in conjunction with the completion of the first phase of Tuas Port, which marked Singapore's milestone in developing its first automated and sustainable port, capable of handling 65 million TEUs annually.
The completion work was announced by Mr S Iswaran, Minister for Transport and Minister-in-charge of Trade Relations.
Click here for more feature stories in Samudra.