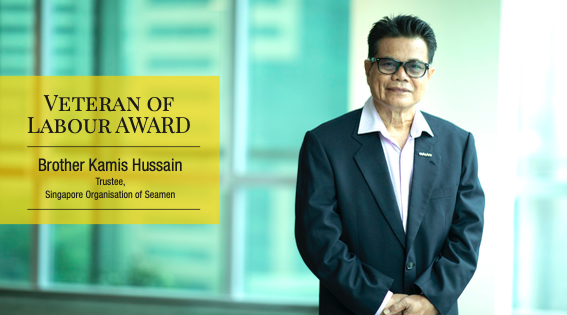 As a former seaman and a Singapore Organisation of Seamen (SOS) member since 1973, Kamis' strong conviction and outspokenness on seafarers' welfare have earned him much respect among his peers. He has been a tireless advocate of seafarer' interests since 1993, when he started serving as a Member of the SOS Executive Committee.
He stepped down as a Member and was appointed as a Trustee in 2019. During his tenure, Kamis actively participated in various committees that made an indelible difference in the lives of SOS members and beyond. His unwavering commitment to represent members' well-being, in areas such as workplace protection and better wages, was distinctly displayed in his involvement in the Industrial Relations Committee. His passion to reach out to SOS local and foreign members led him to contribute purposefully in the Corporate Communications Committee where he provided the member's perspective on media coverage and outreach.
Kamis is also credited for providing timely and practical suggestions to keep members' benefits relevant and attractive in the SOS Members Services Committee. In the Training & Skills Development Committee, he actively promoted members' employability and skill set to be further strengthened with enhanced training benefits that encourage lifelong learning.
He represented SOS well in his participation in NTUC U Live, giving positive aging and healthy living a boost.